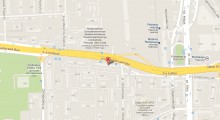 The first departure on route Moscow – Tbilisi – Zugdidy is sheduled on December, 11th, 2013 year, at O8:OO PM Moscow Time and shall be carried out on address:
Moscow, Rizhskaya Underground, Suschevsky val №64 (Verzemneka str. corner).
You can contact us at any time and on all issues you are interested in.